You are here
Back to top
The Real Education of TJ Crowley (Paperback)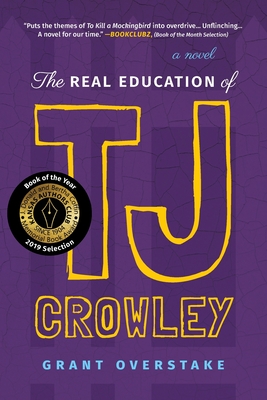 Description
---
The Real Education of TJ Crowley

What Lessons Did You Learn In the 7th Grade?

Set in Wichita in the late Civil Rights Era, The Real Education of TJ Crowley is told by an awakening White teen from a bigoted family who is forced to choose sides after a Black family and their daughter cross the hard-drawn color line and moves into the house next door, unaware that the Crowleys are a vengeful brood with ties to evil men.

Home-schooled in his whiteness, thirteen-year-old TJ Crowley thinks he knows everything about black people. Not that he's experienced anything about them firsthand. Everything he knows about them and the ugly names he flings, he learned from his half-crazed mom. She flips out whenever she sees a black person. And lately, she's been flipping out all the time.

It's the summer of 1968. The nation is divided and on edge over Civil Rights and the war in Vietnam. Even Walter Cronkite seems confused about what's going on. The slaying of Dr. Martin Luther King, Jr. sparked violent protests coast-to-coast, including Wichita, Kansas, a segregated city where, due to racial discrimination, blacks have been forced to live in one Zip Code until now….

In this landmark work of historical YA fiction, two American families with different pigmentation of skin land side-by-side after the new Fair Housing law makes it a crime to discriminate against people of color. Nobody can prevent the Washingtons and their daughter from moving to the home of their dreams, even in an all-white neighborhood like the Crowley's. Not legally. But the Crowleys are a vengeful brood with ties to very evil men….

For TJ Crowley, it's been a bummer of a summer. With his father away from home and his brother gone off to fight in Vietnam, TJ and his mom are all alone in their house on the hill just one street away from the racial dividing line. When the nightly curfew kicks-in, their doors are locked tight. While his fearful mom drinks her worries away, TJ watches from the living room window as firebombs light the sky....

Despite everything, TJ is excited about going to Brooks Junior High where he plans to be a sports star. But he's worried about the 7th Grade because, with forced integration, black students will be bused over the dividing line to join him. He's also worried about his dorky best friend, Eric, who wears tie-dye and let his hair grow past his collar like a dang hippie.

At thirteen, TJ thinks he knows all there is to know, until the doorbell rings one day and The Real Education of TJ Crowley truly begins.

About the Author
---
Author Grant Overstake is a Wichita native who has written two novels on important themes for young people. His premier novel, Maggie Vaults Over the Moon, received widespread critical acclaim for its focus on grief and recovery from loss. Grant began his writing career at 18 years-old at his hometown newspaper, The Wichita Eagle. He went on to attend the University of Kansas School of Journalism, where he won the William Randolph Hearst Award for Excellence in Newspaper Writing, considered the Pulitzer Prize for college journalists. At 24, he was a Staff Writer for one of the top "writer's newspapers" The Miami Herald, and later edited and managed several award-winning Kansas newspapers. Today, Grant shares his writing know-how and life experiences as a Teaching Artist for Arts Partners of Wichita, including co-leading a recent summer writing workshop for disadvantaged youth at StoryTime Village. He also facilitates Artist's Way creativity workshops and memoir writing classes for adults at various locations, including Watermark Books and Cafe in Wichita.
Praise For…
---
"I am thoroughly impressed! Couldn't put it down." – SARAH BAGBY, OWNER OF WATERMARK BOOKS & CAFE

"The Real Education of TJ Crowley is a nostalgic and haunting work of fiction. Anyone who remembers the late 1960s will find the story warm and familiar and deeply unsettling. Even those who did not grow up in that time will connect with the struggles of having to reconcile the values of their home with the realities of the world around them. The story is a window into a time and place that seems so distant, and yet so familiar." – JAY M. PRICE, PH.D., DIRECTOR OF THE LOCAL AND COMMUNITY HISTORY PROGRAM, WICHITA STATE UNIVERSITY

"Set in an explosive moment in America's racial history, this coming-of-age history prompted me to consider my own moral courage. What choices would I have made if I were in TJ's shoes? I was on the edge of my seat, turning the pages and rooting for TJ as he navigated his young life with increasing clarity." – DEBBY IRVING, AUTHOR OF WAKING UP WHITE

"Too often, the conversation about race omits the role of whiteness in the equation. The Real Education of TJ Crowley is the perfect book to spur frank discussions about whiteness with teens and young adults, offering insights into the fear and hate of white supremacy and a model of how a white person can change and challenge what they think they know about race. This book will provoke meaningful discussions in the classroom." – JENNA CHANDLER-WARD, CO-FOUNDER OF TEACHING WHILE WHITE

"Raw, deliberate and honest, The Real Education of TJ Crowley is not a reassuring read. But the book is about potential, about what happens when people are seen as people, not as a "word." This is a book that demands discussion. Read it in a group and talk genuinely about history and its important connection to current society." – MARGUERITE PENICK-PARKS, PH.D., CO-EDITOR OF EVERYDAY WHITE PEOPLE AND A GUIDE FOR WHITE WOMEN TEACHING BLACK BOYS

"Grant Overstake's The Real Education of TJ Crowley is a remarkable book that takes on the choices faced by a young white teenager caught up in the racial maelstrom of desegregation in the American hinterland.
Brought to life by a series of finely drawn characters, the book offers readers, particularly teens, a chance to think about some of the most important issues facing our society today. I heartily recommend it. – MARK POTOK, FORMER SENIOR FELLOW, SOUTHERN POVERTY LAW CENTER